Global Views: See all tasks on one kanban board
04/11/2020 - Updated on 17/01/2022 - Pola, Jérémy
We introduced the long-awaited Global Views feature with the arrival of Kantree 9.0 and a more polished user experience. As with every product update, this one is designed to make your project management more straightforward and efficient. 
[See also: Kanban swimlanes and more reporting tools] 
In our product notes below, we will explain what Global Views are, why they're a great tool for organizing a kanban board, and how global search works in Kantree.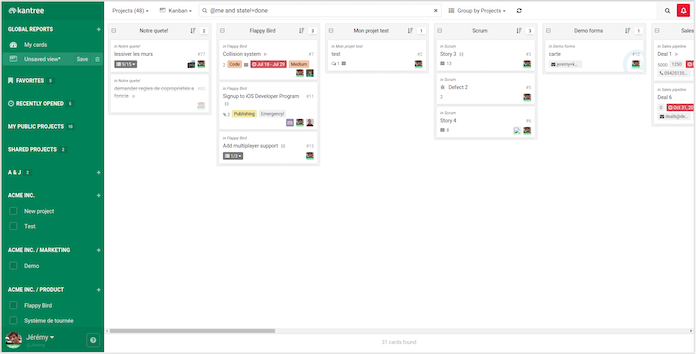 Work at a glance: Kantree's Global Views allow you to display tasks from across workspaces on a single kanban board, without having to switch between projects.
What are Global Views in Kantree?
This powerful, time-saving feature allows you to navigate your projects with more ease and have a comprehensive overview of what you or your team is working on. You will find your data in fewer clicks, leaving more time for project management.
Here's an overview of the functionality of Global Views:
They are a practical and quick way to view some or all your projects on a single kanban board (hence the name global). No need to switch back and forth between workspaces to track work. 
You can display all tasks from multiple workspaces assigned to you or your team in several ways; via the kanban view (as mentioned above), plus the timeline, calendar, table, or checklist views.
Thanks to the global search functionality, you can filter views by a single field or multiple fields across several projects.
Just like in regular project views, Global Views let you run an operational report (called Dashboard in Kantree) featuring velocity and/or progression and/or workflow status across selected and/or all projects. 
[Related: Improving cross team collaboration with kanban]
How does Global Search work? 
With this update, the filter box at the top of your organization's page is equipped to support global search and comes with suggested searches (more on this below). Here's a refresher on how to search through cards using our query language.

In order to find tasks across all projects, go to the top toolbar of your organization and click on the magnifying glass icon. Put in a search term and click enter. 
For even quicker results, use one of the predefined searches: "Overdue cards assigned to me," "Due cards assigned to me," and "Assigned to me." Click on the links to get a checklist (you can switch to kanban from the top toolbar).
Using the same top toolbar or the search icon (towards the bottom of the left-hand sidebar), you can access select workspaces and quickly switch between them using the up and down arrows on your keyboard.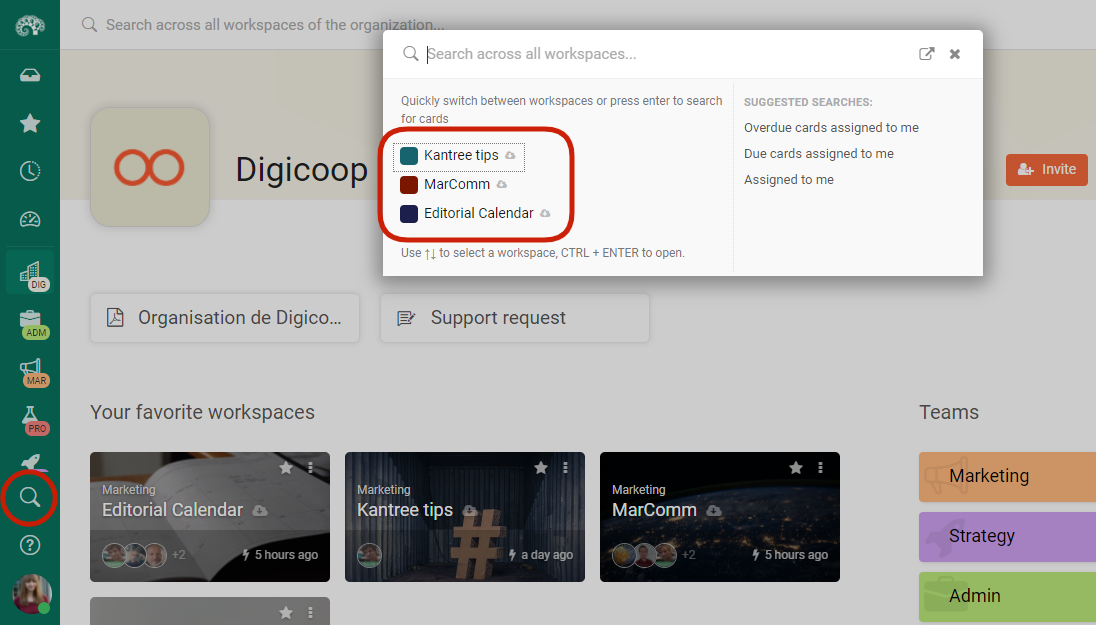 Tip: Like with any search results in Kantree, you can save global views as private for easy access next time you log in. [Watch: Creating private views in Kantree]
Follow our public roadmap and take part in building Kantree! Members can submit ideas and comment on in-progress items. Questions? Email us.
---