How Thales Digital Factory uses Kantree for HR management
08/04/2019 - Updated on 19/07/2023 - Pola
Paris-based Thales Digital Factory is part of Thales Group, a multinational company specializing in designing and building electrical systems for the aerospace, defense, security, and transportation industries. The role of the Digital Factory is to accelerate the group's digital transformation.
It's no simple task, given the scope of the project. "By transformation we mean both digital offers and ways of doing things," says Florian Auproux, in charge of IT Operations at Thales. "Agility, cloud, product as a service, user experience - various concepts that we're going to include in our daily operations to show that we can work and deliver faster than by using traditional methods."
Part of staying ahead of the game is recruiting top talent. The digital team works closely with the Thales Group and operations teams, including Human Resources.
We spoke with Florian about the company's recruiting processes, driven by digital transformation, and how Kantree helps manage them efficiently. [Read also: How to use Kantree for recruiting.]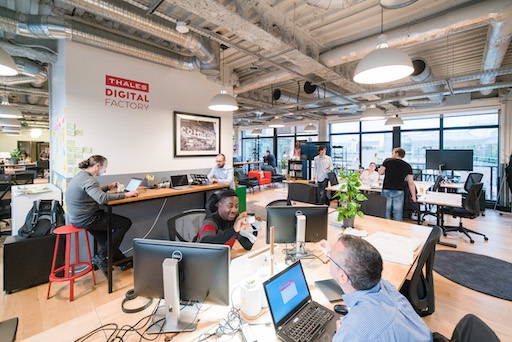 How do you use Kantree in the recruiting process at Thales?
We have used Kantree from the beginning to manage our organization across the entire user population. Thanks to the flexibility of the tool, we have been able to build different processes around recruitment (over 40 possible actions): from receiving the CV, to various interviews, to accepting the offer.
The resulting actions allow the IT team to create access and prepare the work environment for an incoming employee. For example, we know what type of laptop to prepare, thanks to a form in Kantree that they fill out.
Are there any HR challenges that you've overcome with Kantree?
It's not just one challenge that we've managed to defeat with Kantree!
Over time, we needed more features to improve the onboarding of a candidate. HR teams spend a lot of time sending emails to candidates regarding various procedures: interviews, information about the company, forms to fill out when the potential candidate becomes a future hire. A whole range of administrative tasks that take time. This is when we asked Kantree to develop an interface that could streamline these exchanges.
We were also able to develop a project that allows us to receive requests for creating an environment on a cloud platform with the other Thales Group entities. Several separate forms are in place, and requests submitted via this form arrive on the same channel in Kantree to be processed by IT teams.
What is your favorite Kantree feature or workflow?
I use the Import function several times a week (and greatly appreciate it).
We have multiple employees who don't go through the recruiting process, but whom we need to follow throughout their lifecycle, because there's a need for access (e.g. cloud accounts, badges). The time saving is phenomenal, since previously the manual creation of 10 cards took several minutes. Now it's a simple edition of an XSLX/CSV file, three clicks on the Import tool, and cards are done. Magic!
Thanks to Florian for sharing with us how Thales uses Kantree for HR. Make sure to read our other client stories! Would you like to be featured? Send us an email.
---