How to use Kantree as a content planning solution
25/10/2021 - Updated on 19/07/2023 - Pola
These days, content marketing is an indispensable part of your overall marketing strategy. It enables you to connect with your target audience, establish trust, answer questions, and improve client acquisition and retention rates.
In order to meet your marketing and growth goals with content, you need to give it structure. A good content planning solution will enable you to plan, organize, manage, and track all your publications. In this article, we'll show you how to create a content calendar in Kantree and use a kanban board to visualize the workflow.
What is a content calendar?
It's a central place for managing all your content projects, from idea to writing to delivery and promotion. A content calendar helps you picture what content to publish, when, and where. It's an essential tool for optimizing your content marketing strategy and consistently producing high-quality pieces.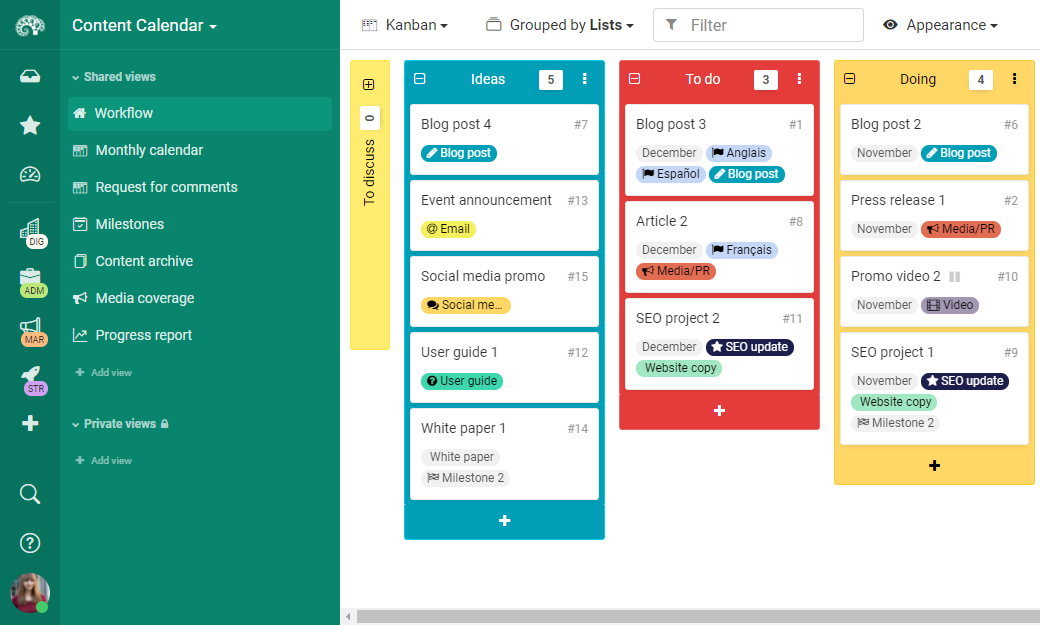 Content calendar in Kantree, organized in a kanban board to visualize the workflow.
Content calendar vs. Editorial calendar
These terms are often used interchangeably, as both tools can drive your content marketing efforts. However, there is a difference between them.
An editorial calendar, borrowed from traditional print media, is a publishing schedule. It's used for long-term content planning (monthly, quarterly, or even annually), as well as assigning writers and editors to each piece of content. This type of calendar defines general themes and establishes a publication pace. 
A content calendar is more specific and used for day-to-day content project management and scheduling. It helps you stay organized and keep track of content types, media files, distribution channels, and deadlines. Because it focuses on daily tasks, it can also be used for managing last-minute or one-off content requests. 
To use marketing terms: an editorial calendar deals with strategic planning, whereas a content calendar with tactics and execution of the strategy.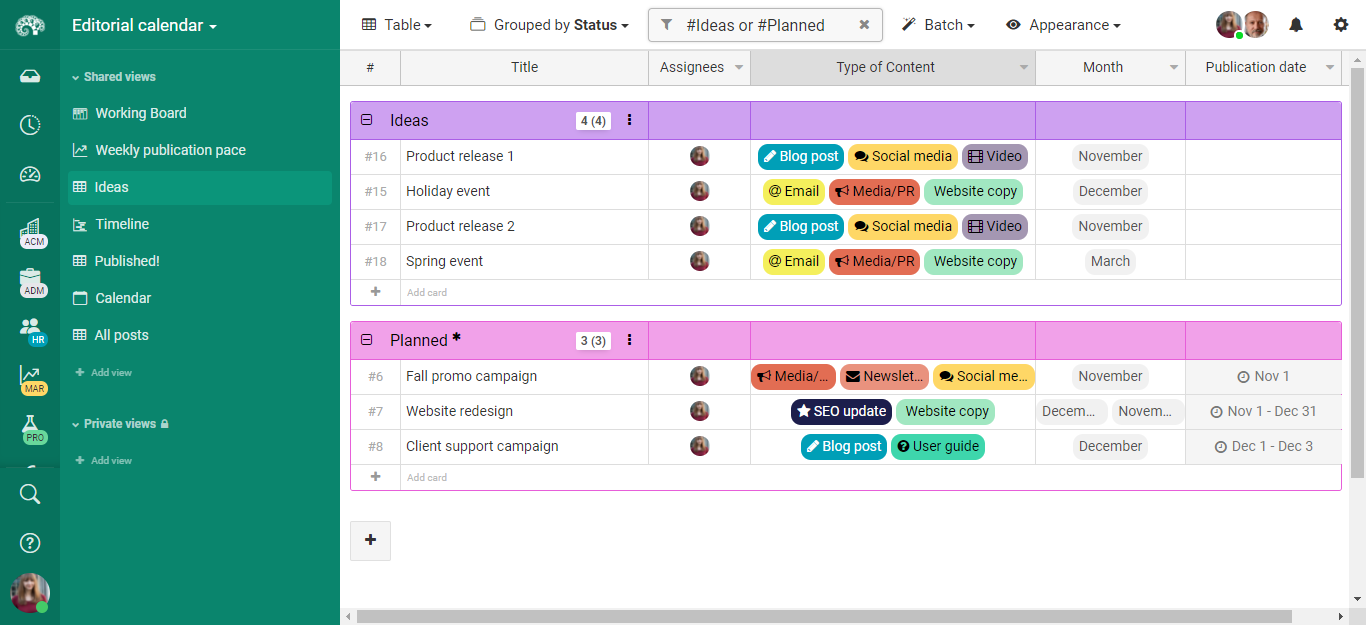 Editorial calendar helps with defining content themes and publication pace.
Why use content planning tools in your strategy?
At Kantree, we use both calendars. 
Our editorial calendar is a tool for cross team collaboration on content strategy. During monthly editorial meetings, all team members are invited to contribute ideas. This collective input - from product developers, client support, and sales - helps our content manager to better plan ahead and produce content that is of value to users and aligned with our strategic goals. 
Template: Editorial Calendar
[Click to view and copy it into your Kantree workspaces.]
The content calendar is an extension of our editorial calendar and includes the particulars of each project: the main writer and additional contributors, due dates and publication dates, key messages, SEO recommendations, graphics and videos to accompany blog posts, etc. It also visualizes the workflow in a kanban board, grouping content into "to do," "doing," and "done" to increase project efficiency.
[Further reading: Improving cross team collaboration with kanban]
10 benefits of a content calendar 
As one of the most flexible content planning tools, a well-designed online content calendar will make it easy to manage all phases of content creation. 
In our experience, keeping a content calendar lets you:
Execute your content marketing strategy more efficiently; 
Centralize content planning and bring teammates into the project; 
Visualize the workflow to increase productivity and limit hold-ups; 
Plan content distribution across media channels; 
Organize and manage day-to-day project tasks; 
Assign writers and additional contributors, when needed; 
Collect visual assets for your content (photos, graphics, videos); 
Keep track of draft due dates and publish dates;
Maintain a consistent publishing schedule;
Incorporate last-minute and one-time content requests. 
Template: Content Calendar
[Click to view and copy it into your Kantree workspaces.]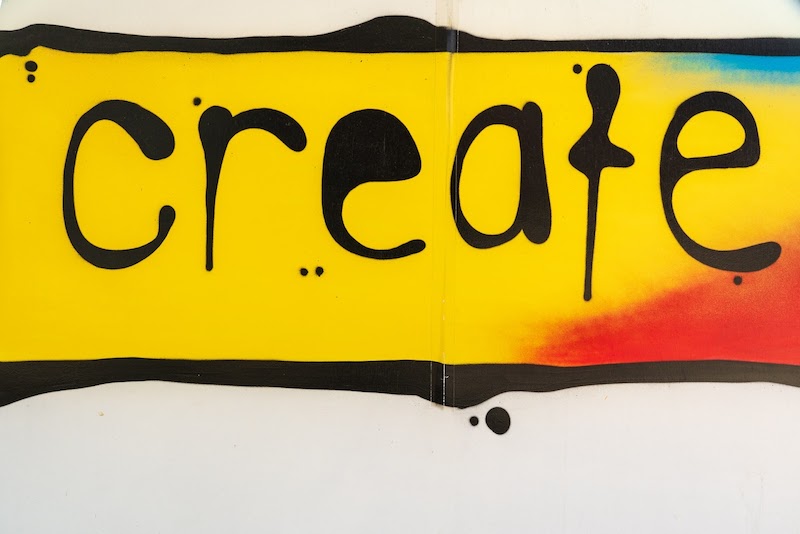 How to decide what content to create?
Identifying one general theme or event that's relevant to your organization's marketing will give you ideas for multiple content pieces. You can do it by: 
Brainstorming with teams from other departments
As mentioned in the section about an editorial calendar, it's a great way to find content ideas. Input from across the organization will help the content team get a better feel for what the audience needs, what common problems pop up, and what the competitive landscape looks like. This can lead to more timely, relevant content. 
Tracking upcoming events 
Depending on your organization, an event can be a new product release, a webinar hosted by your team, or a trade show you're attending. All these may require different types of content and coverage: blog posts, press releases, videos, etc. 
Performing a competitive analysis
When you need to decide what content to create for your blog and social media, monitoring competition is a good place to start. See what themes they cover and what messages get a reaction from their audience. Of course, the idea is to get inspired and figure out what you can offer that's unique, not copy anyone's work. 
Doing SEO research 
From typing queries in Google to using powerful keyword research tools, make sure you invest time in SEO to help your digital content stand out and be found by potential customers. Knowing what questions or problems they have, you will be able to provide them with answers and grow your business through content. 
Once you decide what content pieces to create, fill out your calendar. Watch this short video to see how to get started.
How to create a content calendar in Kantree
After collecting content ideas, as mentioned above, turn them into actionable items. Follow these steps to use our platform as an effective content planning solution. 
1. Create a new content workspace from scratch or using a template  
We recommend using a kanban board view, where each column represents a step in the content production workflow and each card in the column one piece of content. You can group the cards into "to do," "doing," and "done" columns (or however you want to name them). Another way is grouping tasks by weeks or months.
Tip: If you are used to working with spreadsheets, then you may like the table view.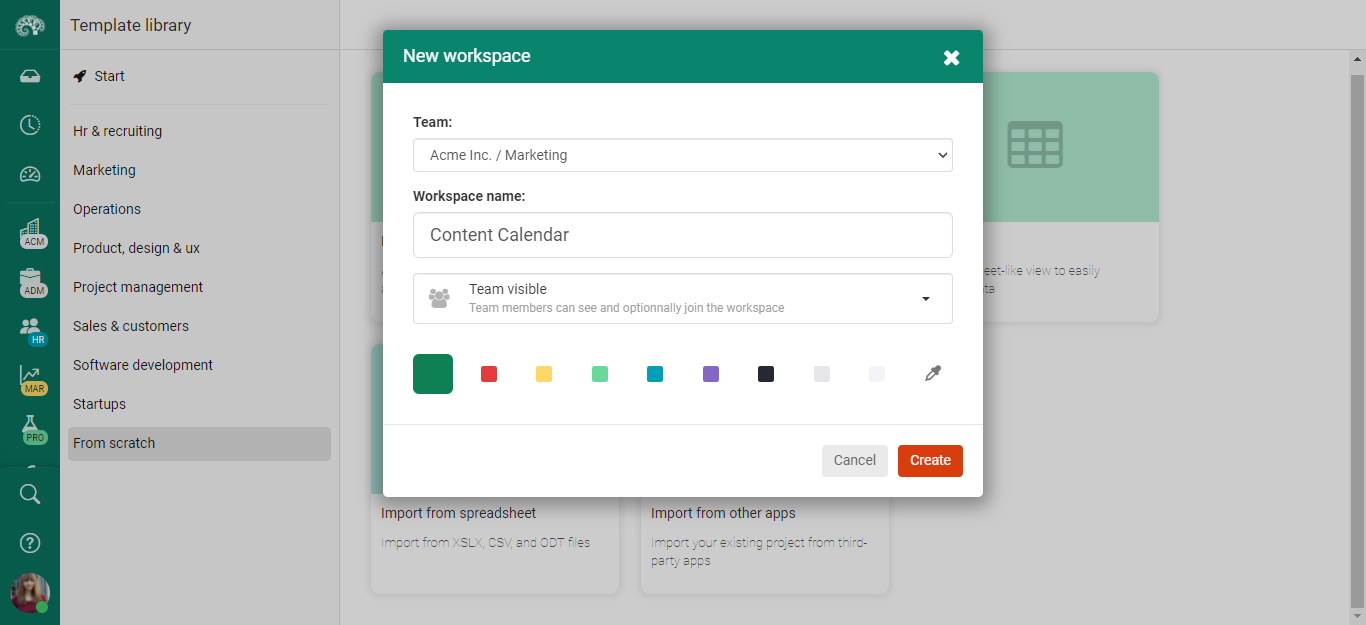 Build a custom content workspace in Kantree or use our template to get started instantly.
2. Identify the types of content you will publish.
You can use these as fields in your project cards and color-code them to better visualize the tasks on the board. Common categories include blog posts, media articles, press releases, newsletters, infographics, videos, social media posts, use cases. Need more? You can easily add your own to cards in Kantree (see #4 below).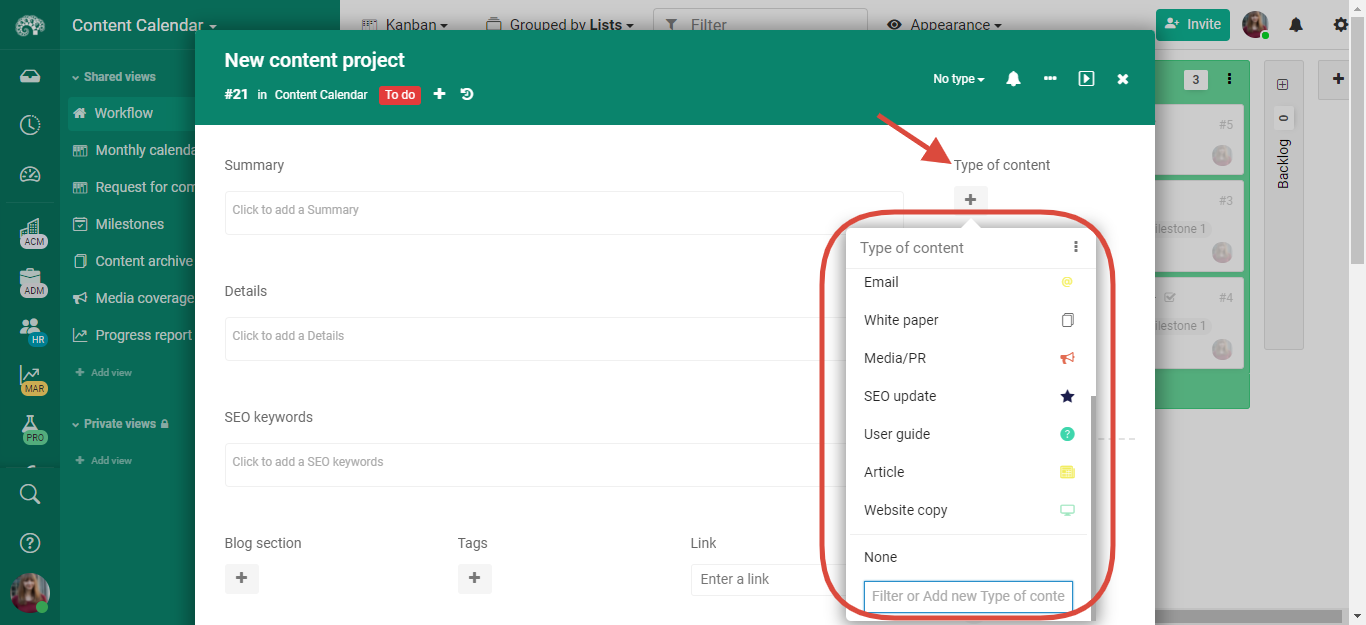 Kantree's template includes default content types. You can also add your own.
3. Map out your content schedule 
You probably have an idea of how much content to produce every week. Using Kantree as your content calendar will assure that no piece of important content falls through the cracks. If you plan e.g. 2-3 new articles per week, one monthly newsletter and one use case per month, create a card for each and start moving the pieces on your kantree board. You will quickly get a good idea of the workload.
Tip: Invite your team to the workspace to make sure everyone is on the same page and your content plan doesn't clash with other events across the company.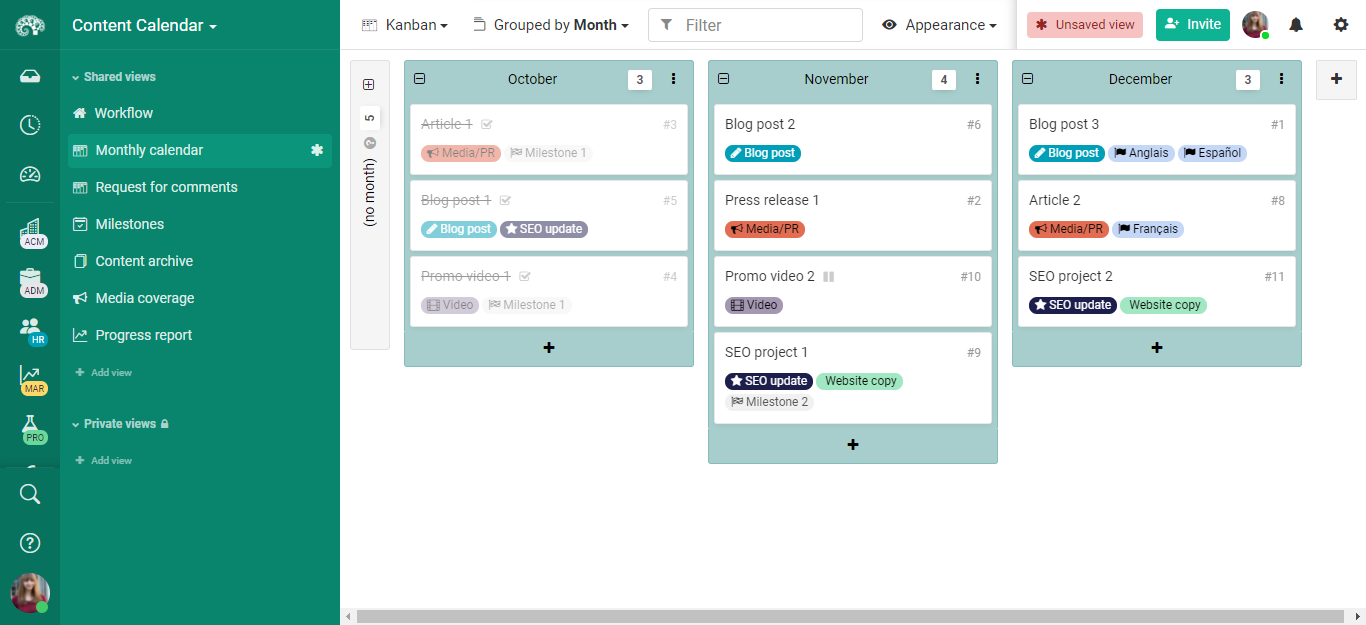 Organize your content projects in a kanban board by month to get a feel for the workload.
4. Customize cards in your content workspace
This is really where you make the calendar work for you! Kantree's flexibility means that you can add tons of information to each content card: assignees, types of content, media channels, due dates for drafts, go-live dates, project summary and details, keywords and tags for online content, files from your computer (or Dropbox and Google).
You can also talk with your team directly in the comments, bypassing emails. Simply type @, followed by the name of the person to notify them.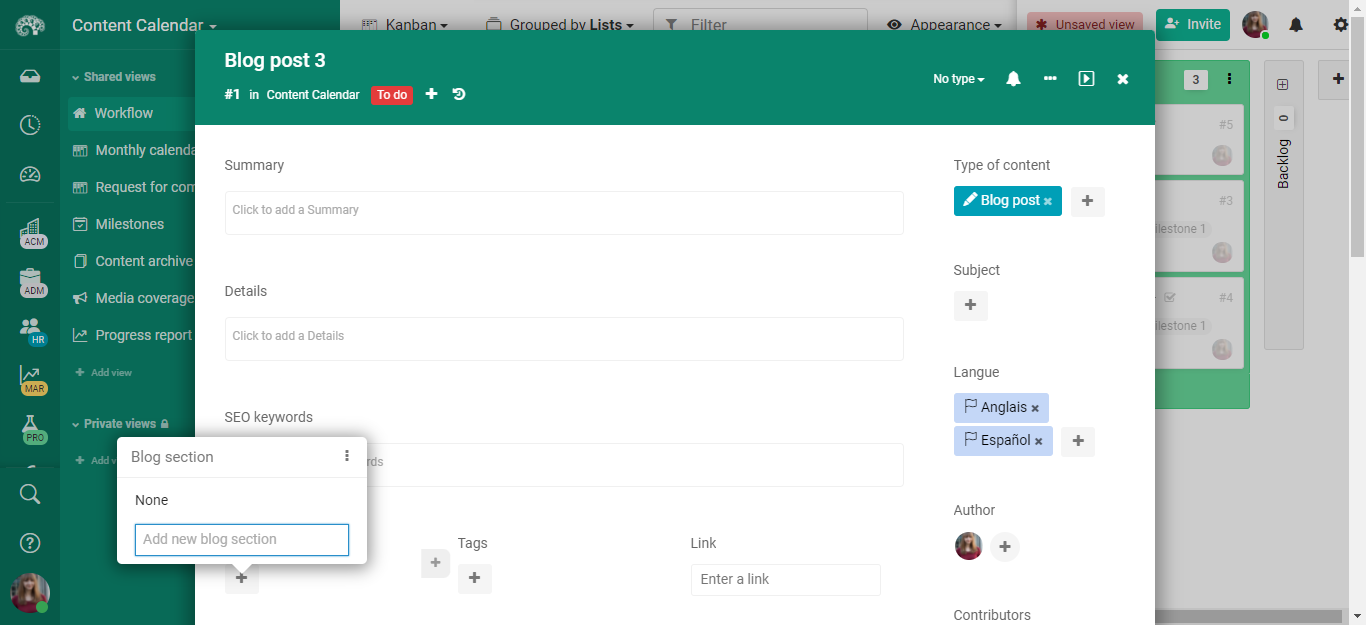 Customize each content card in Kantree's workspace as you like!
Pro tip: If your content project requires input from "external" people (such as other teams or clients), you can use Kantree forms to gather their input. When someone submits information, Kantree will automatically create a card in your project.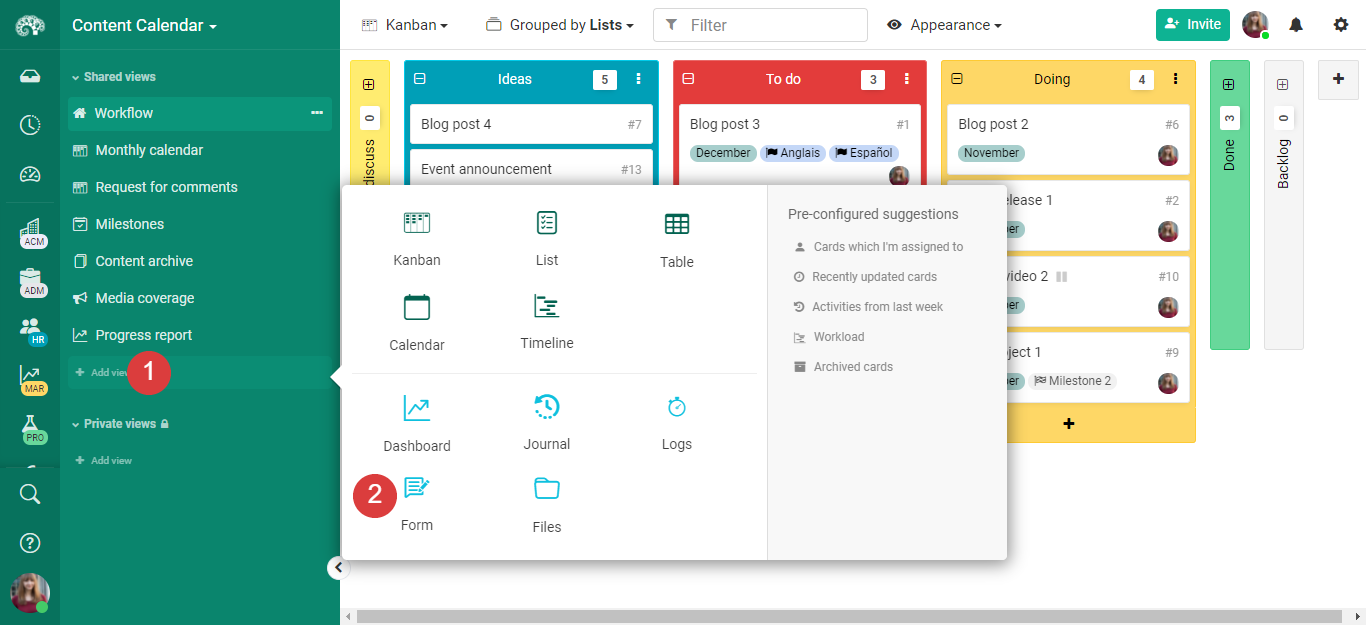 Need content input from clients or other teams? Use Kantree forms to collect feedback right in your workflow.
Try Kantree free for 15 days and start managing your campaigns on your own terms. Questions? Email us.
---