Top project templates for startups
29/04/2020 - Updated on 19/07/2023 - Pola
As a startup that has been around for a few years, we have gone through every stage of business development. This experience helped us put together a library of top project templates for startups, from a detailed product roadmap to a handy editorial calendar.
Here's a look at seven of our favorite click-and-done templates that will help you get your business started. You can quickly set up any project as a board in Kantree with pre-determined views and workflows, then customize it as needed in a few clicks.
Tip: Get ideas for growing your business with Kantree from this client story.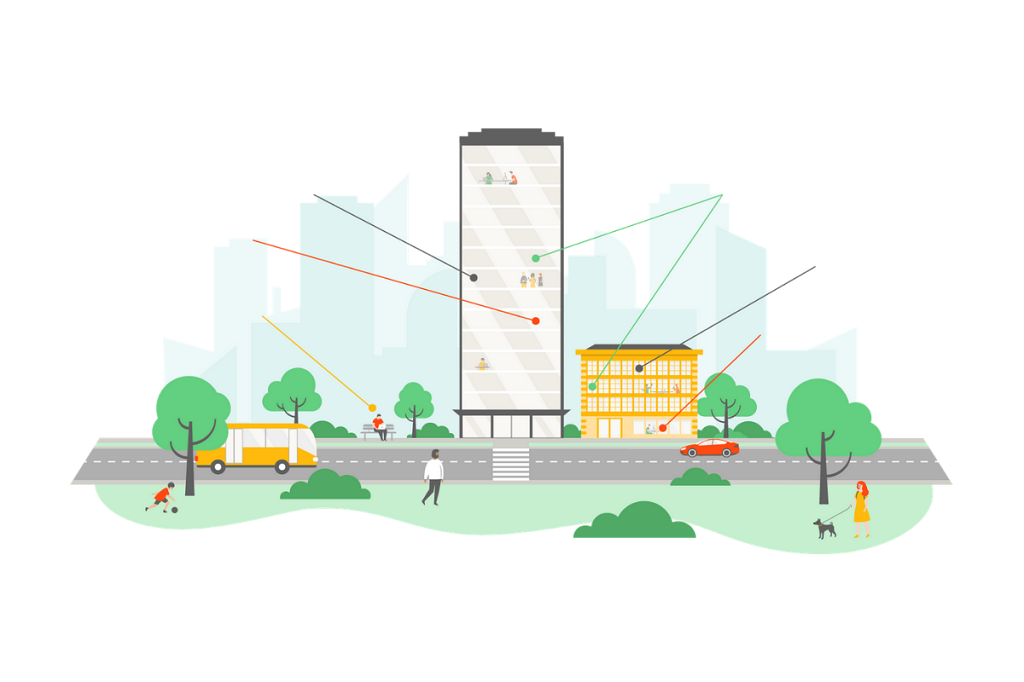 This versatile template is a great place to start on any project. It shows you the different phases of your work on a kanban board (e.g. backlog, items to do, in process, on hold, finished), breaking it down into smaller, manageable steps.
Check the sidebar to see predefined views, which group your tasks by priority, backlog, or both for a quick overview of what needs to be done next and when. There are also two reports (cumulative flow and cycle times) as another way to visualize your project.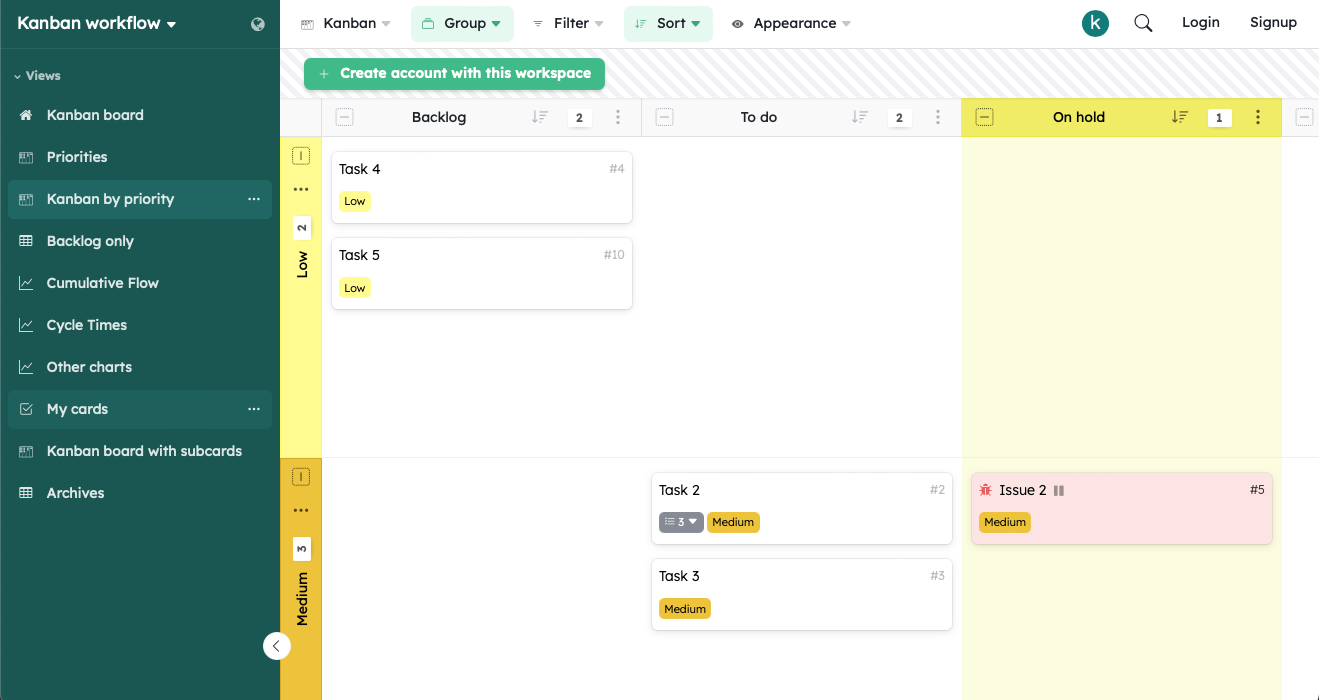 A must-have template for any news business, it contains two practical kanban boards with an overview of in-progress and released features. You can also use it with your team to keep track of feature requests (sent directly to Kantree via forms) and vote on proposed items.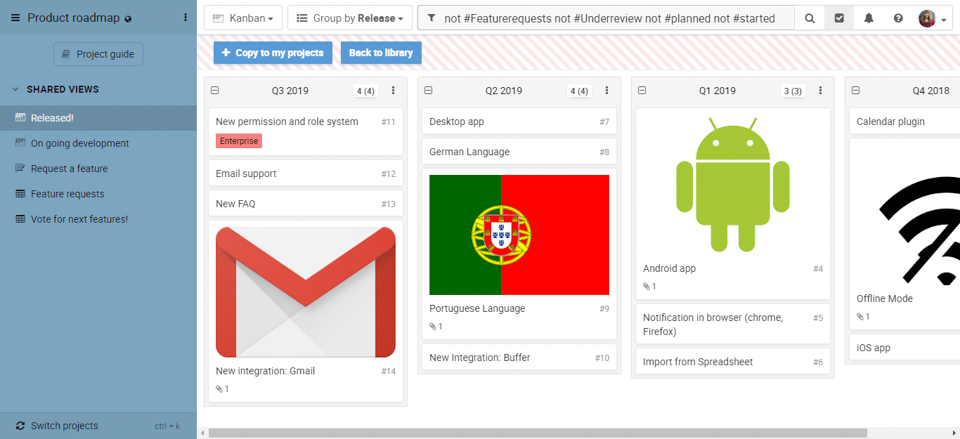 When you use Kantree for business development, there is no need to buy a separate sales tool. The pipeline template allows you to set up an effective workflow for collecting and qualifying leads, as well as keeping track of any contract negotiations.
Other useful features include a project calendar, a visual reporting tool for tracking goals and team overload, and a timeline view (a.k.a. spreadsheet) of deals to reactivate. Use it instead of an external database of former clients and expiring contracts.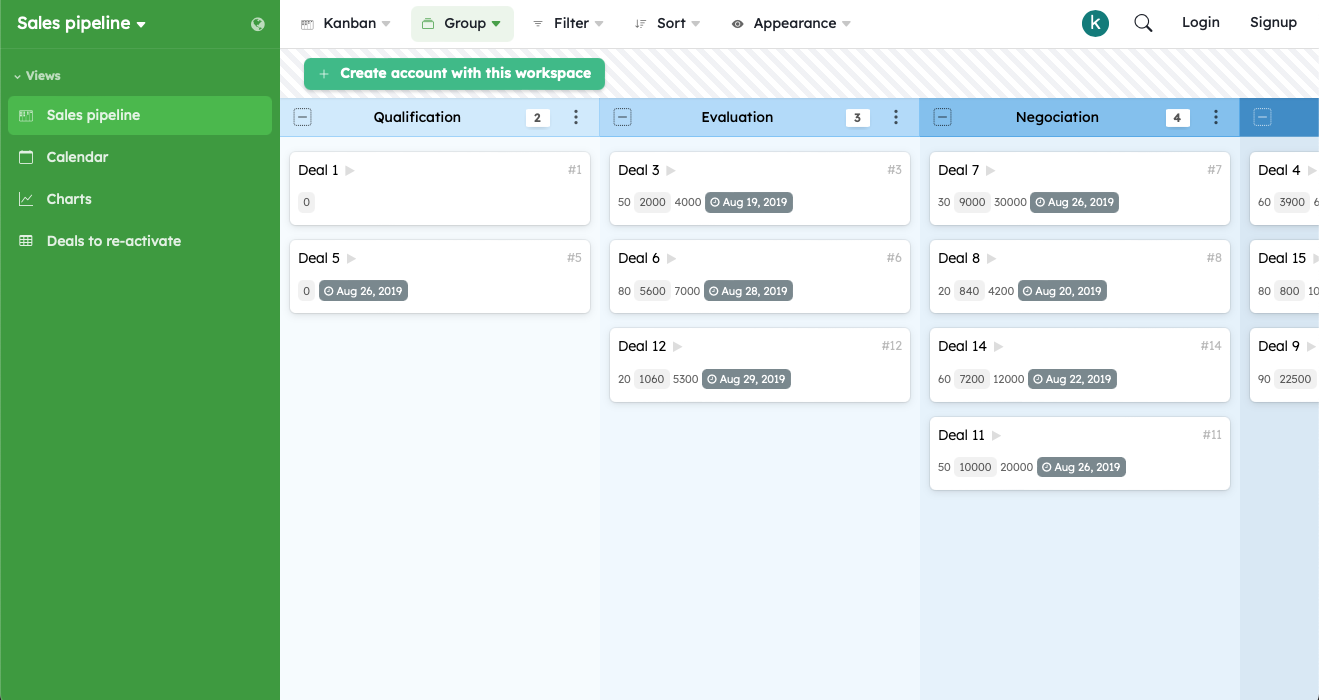 Another must-have template for sales teams is the competitor tracker. It comes with a powerful kanban board with swimlanes to help you group competitors by market share and competitiveness, separately or all in one view. You can also use the price range view to organize competitors by rates and the time-saving report for feature usage tracking.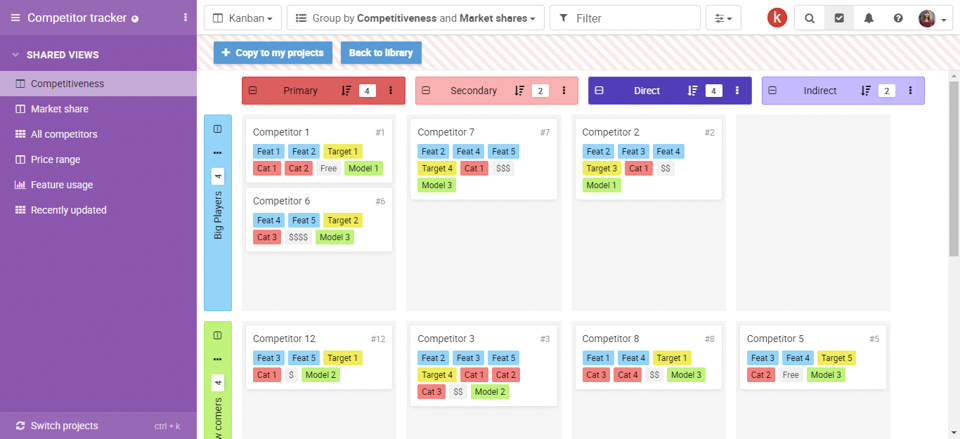 One of our most powerful templates, this one is packed with kanban boards, table views, and a visual report dashboard to help you build an efficient process for growth experiments. There is a spreadsheet-like overview of all experiments, a workflow grouped by status and category, an impact-priority and category-priority matrix, a general timeline, and more.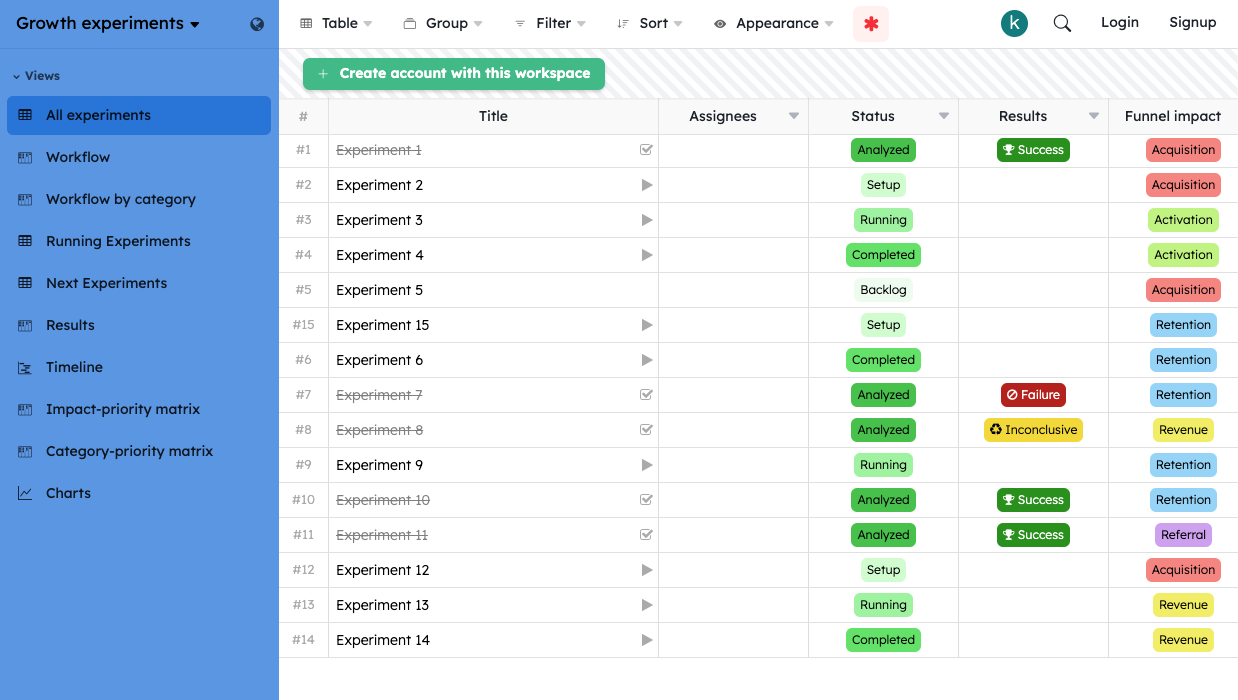 This flexible template is a hub for all editorial projects! Use it to keep content ideas in a spreadsheet-like view, organize current and upcoming articles by month in the "working board," and see all previously published content in one place. The template is also useful for keeping track of the weekly publication pace.
Tip: Working with clients or colleagues in other departments? You can use the forms feature to allow 'external' people to submit content ideas. All the submissions will be automatically added to your kantree board, in a place you choose (e.g. an ideas column).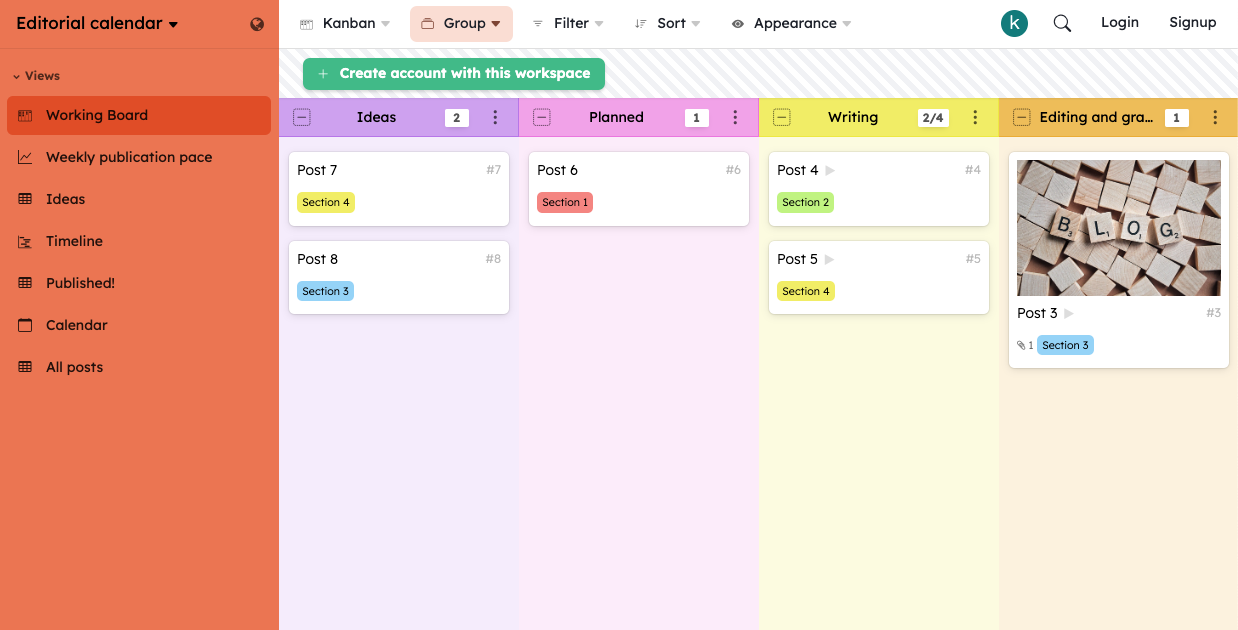 As your startup grows, the recruiting pipeline will come in handy. Use this template to set up a recruiting workflow, then add applicant information. The board includes pre-designed columns labeled candidate profiles, phone screening, on-site interview, and job offer.
Tip: Save even more time by designing a job application form in Kantree to post it on your website or social media. When someone sends an application, Kantree will automatically create a card. You'll be able to talk to applicants via comments, quickly and without emails.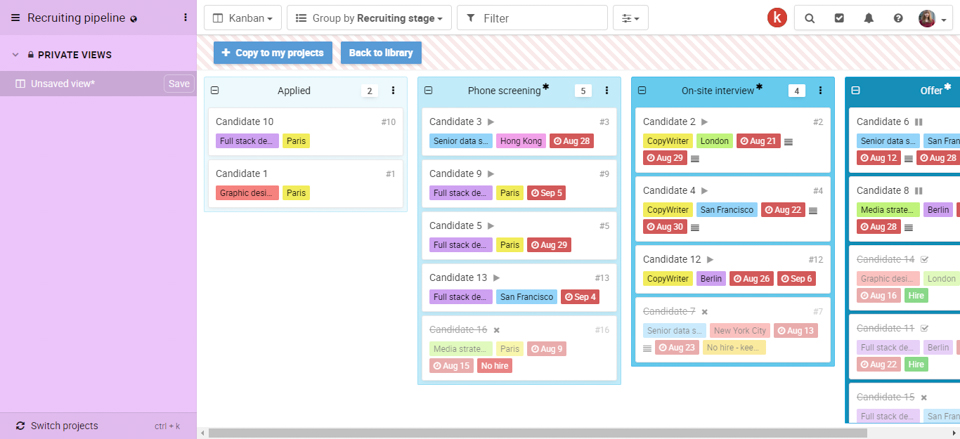 Getting started with templates
Once you select a template, save it by clicking "copy to my projects" at the top and start customizing: write a project guideline for your team, add a few tasks and deadlines, invite collaborators, change captions and colors etc. You're on!
Tip: Watch our 5-minute video to get a quick tour of the template library and see how to use our project templates.
While you're here, discover more project templates:
Try Kantree free for 15 days and start managing projects on your own terms. Questions? Email us.
---