How to use Kantree for sales
24/05/2019 - Updated on 19/07/2023 - Pola
If you were to name one department that's crucial to building a business, what would you say first? Probably sales. You may have the best product or service, but someone has to go and find a market for it, otherwise you can pack your bags.
Finding leads, negotiating, and closing deals requires a great deal of organization. We know a thing or two about it, being a startup.
We've experienced first-hand that when you use Kantree for sales, you can easily keep your finger on the business development pulse. From collecting and qualifying leads to communicating with your team email-free, Kantree has you covered.
It can easily replace a dedicated sales tool, such as Pipefy, and be used for other projects as well. This way, Kantree is a cost-saving solution that's easier to use throughout the company.
[Discover how Orano Group uses Kantree across teams.]
Here are five ways your sales team can use our visual board. This is just a start: you can customize any sales process in Kantree to fit your specific needs.
[See also how one of our clients uses Kantree for business development.]
Create a new sales project
Set up a new project in an instant using Kantree's sales pipeline template. It contains columns such as new opportunities, qualification, evaluation, negotiation, and contract. Rename the columns if needed, then populate them with sales leads (one card for one prospect) and customize the cards with fields you need (e.g. name, contact details, sales offer). Each card will use the same model, saving you time to focus on your work and close more deals!
[Read about editing and customizing cards.]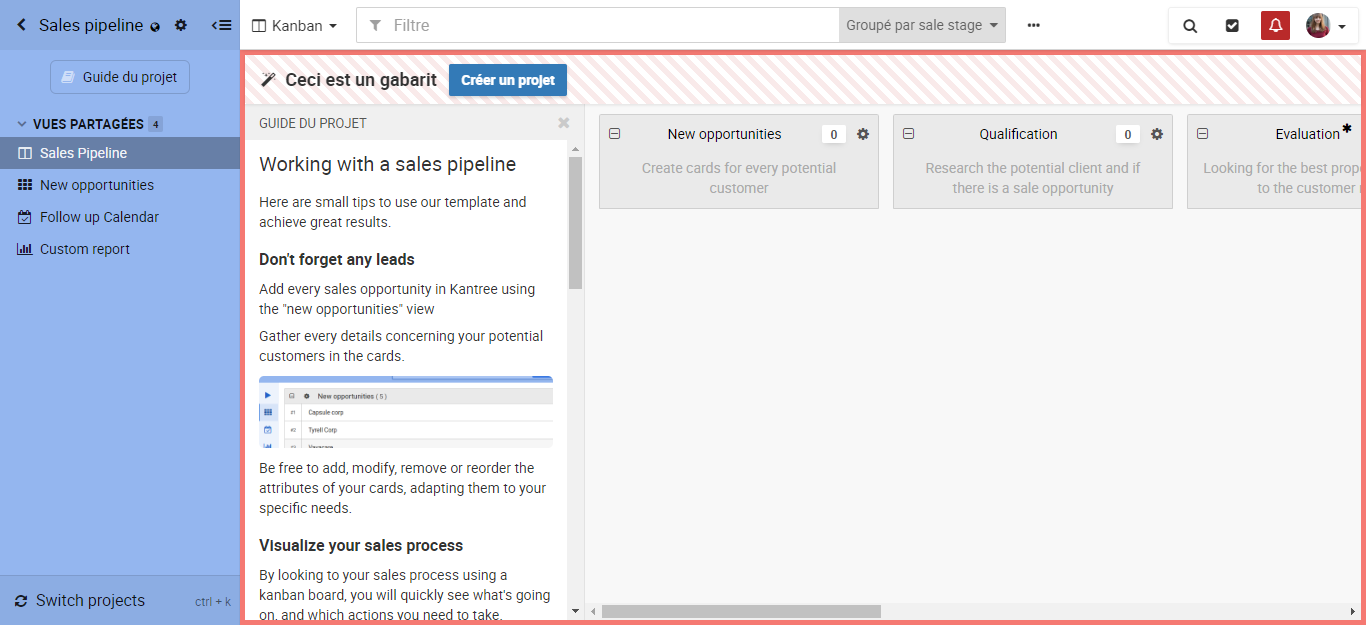 Invite your sales team
Add members of your team to the project and start closing deals together. You can talk to them in real time via card comments - just tag someone's name to bring them into the conversation. Want to send an attachment? No need for separate emails. Upload files to the cards, either from your computer or popular services such as Google Drive and Dropbox thanks to Kantree's third-party integration. When team members subscribe to cards, they will be notified of any changes. You can also set roles for each user, defining what they can see and do within your project.
[Learn about managing permissions and third-party integration.]
Create a contact form to generate leads
Save time generating and keeping track of prospects when you create custom forms in Kantree. Once you've chosen which fields will be displayed, corresponding to your card attributes, put a link to the form on your website. When someone submits information, a new card will be created in Kantree in the column you previously designated (e.g. prospects). Workflow automation = instant organization.
[See also: 3 ways to use Kantree forms (like we do).]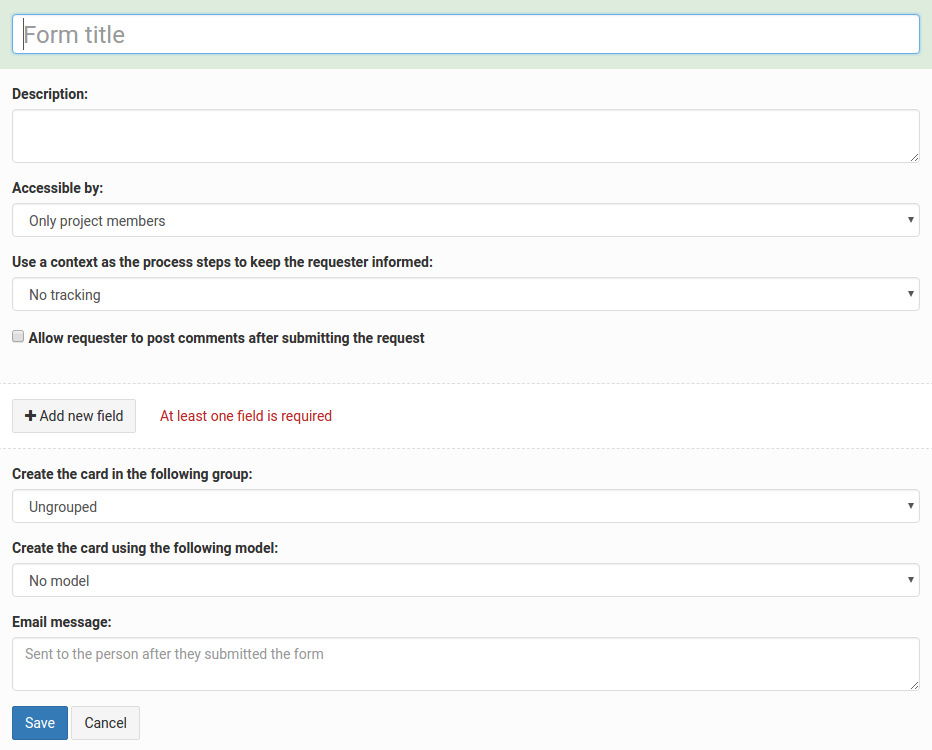 Qualify leads
In the process of qualifying leads, create card types for each category of leads. Add different fields for each type and organize them according to your needs. For example, drag and drop contact information to the top of the card for easy access. Then organize your fields under different tabs (prospected, qualifying, qualified etc.).
As mentioned earlier, Kantree can automatically add new leads to the prospect column when someone submits a contact form. When the status changes, simply move cards from one column to the next.
[See these 3 tips to set up an efficient Kanban board.]
In order to sort leads based on your specific needs, use Kantree's powerful custom filters and group by - for example regions, company size, salesperson in charge. Then create custom views to quickly access your data (see the next section).
Tip: You can also communicate with your prospects directly from their assigned cards in Kantree. When they receive an email from you and hit reply, their message will be visible as a comment. No need for separate emails, everything is kept in one place.
Create quick access views
You won't waste time looking for information when you create quick access to the views you need. That could be your deal closing process on a kanban board or only deals under negotiation in a table view. Save those views as private or visible to your team, and switch between them in one click.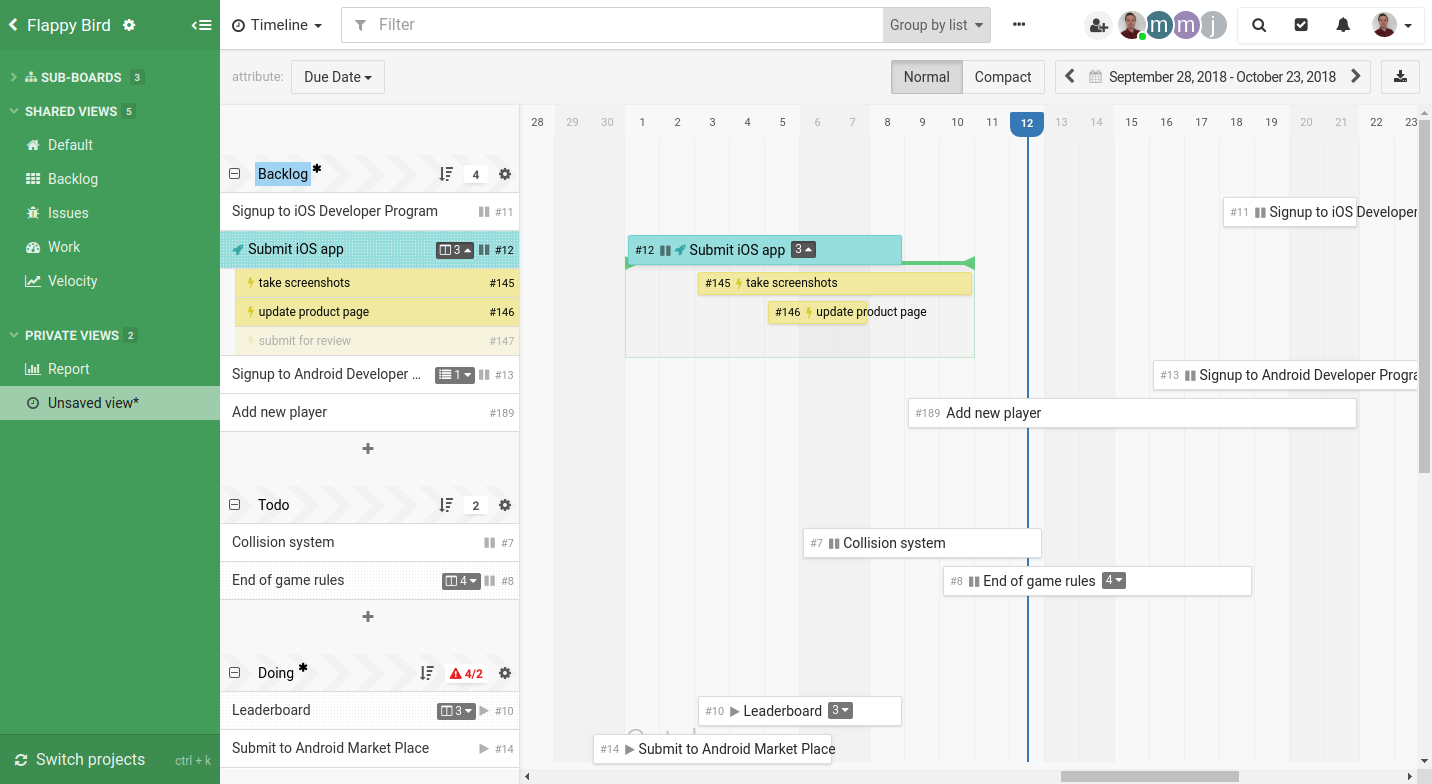 Our intuitive board doesn't require tech knowledge, which means anyone on your team can use it. Watch the video to see how easily you can set up any sales process in Kantree. For detailed instructions, browse our User Guides.
[See also: 3 tips to set up an efficient Kanban board.]
Do you have a success story of using Kantree for sales? Send us an email and maybe we'll include your case in a future post.
---