4 key steps in a successful digital transformation journey
11/02/2022 - Updated on 19/07/2023 - Pola
In the past few years, businesses worldwide have been on a digital transformation journey, that is integrating technology into all aspects of doing business: from how the company operates to the way it delivers products or services to customers.
The change involves adopting digital tools for business, updating internal processes, and fostering strong team collaboration.
Why is digital transformation important? 
To put it simply: business growth. There are a number of benefits of digitalizing work processes, the main ones being improved team efficiency and resource management, which can lead to innovation and a better experience for customers. 
It's worth noting that for digital transformation to be successful, it requires the buy-in from everyone in the organization. from junior team members to upper management. This includes both the cultural change and the use of technology (without losing the human touch, if you ask us). 
[Related: Is your workforce ready for the digital future?]
We have previously covered the changing workplace in: New era of management: digital, distributed, collaborative. In this follow-up article, our digital transformation tips focus on the more technical, workflow side.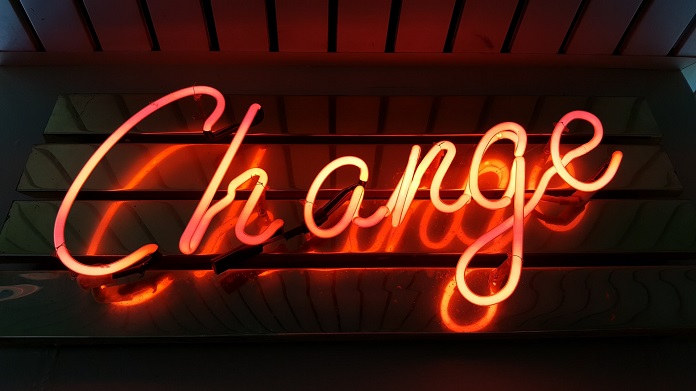 A successful digital transformation journey is about embracing change and integrating technology into business operations without losing the human touch.
Here are four steps to follow to ensure a successful digital transformation journey
1. Let users handle their own digitalization with custom workflows
Innovation and growth will happen when you foster engaged teams and tap into their collective intelligence. Each team member brings something different to the table and knows their optimal work process. Digital transformation tools can help bring out their potential by encouraging self-management.
This notion is reflected in Kantree, which allows team members to digitalize their work thanks to a great degree of flexibility to build custom workflows easily, from simple to highly complex. Our platform doesn't force you to run your projects a certain way. Instead, you tell Kantree how you like to work, which then lets you perform at your best. 
Using some or all the building blocks, you can create the right workflow based on:
what you want to achieve and your choice of methodology: traditional or agile
your desired workflow: kanban, scrum, process and project management
your type of work, e.g. sales, marketing, human resources, product development.
[View Kantree Solutions for teams and by workflow]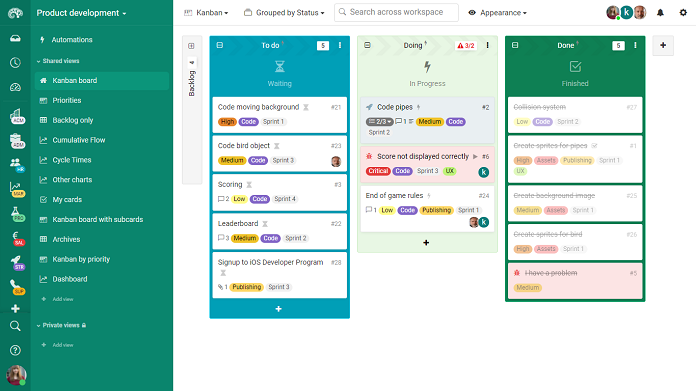 Use Kantree's building blocks to build the right workflow for you, based on your needs and preferred methodology. Here's an example of a kanban workflow for product development.
2. Collaborate more efficiently in a digital workspace
Effective collaboration is key to any successful business. But what happens when you go digital? Some managers may worry that changing how teams work could negatively impact productivity and outcomes. This is why it's important to choose the right digital tools that make it easy to share information and work together. 
Kantree's flexibility extends to building data models. Each card in your digital workspace can be customized with unlimited fields, allowing you to create a mini-database of information for each project: assignees, tasks, ideas, expenses and invoices, forms, media files, activity logs, related cards, and many more.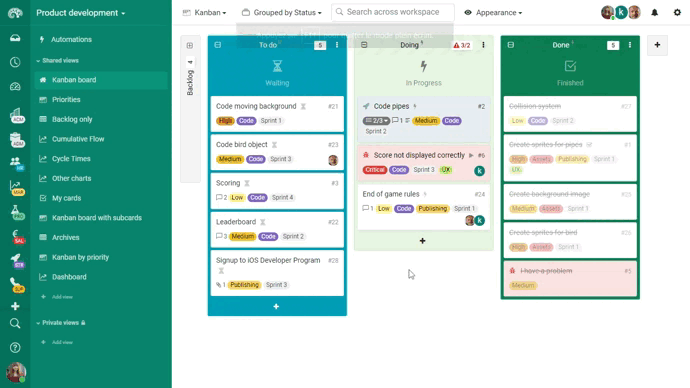 Cards in your shared digital workspace can be customized with unlimited fields, allowing your team to access key project data and collaborate directly in Kantree.
By inviting colleagues or 'external' people (such as clients or other departments) to your workflow, you can easily share information and collaborate right in Kantree, whether you work with in-office, hybrid, or fully remote teams. 
(No worries, you can decide who can see what by managing roles and permissions.) 
Once you've built your custom workflow, you can display your data in a number of ways, and each user will be able to save filtered views as private (see #4 below).
3. Streamline communication and keep it in one place
Another thing to consider during your digital transformation journey is how to best communicate on a daily basis, especially when you work with distributed teams. What's the best way to ensure effective interactions between everyone involved in a particular process? The answer: keep all communication in one central place. 
Kantree comes with strong email integration, which allows you to communicate right from your cards - with people in your company (via comments) and the outside world (project forms). That way you won't lose any crucial information. It will be stored in Kantree and accessible at all times to you and your team members. 
Requests for comments
When you need to get input from your colleagues, you can tag them in the comments section of your card instead of sending an external message. They will receive a notification in their Kantree inbox and will be able to leave a comment from there. They can also choose to be notified via email - once they hit "reply," their message will automatically appear in the comment box. 
Tip: You can also add a voting button to your cards.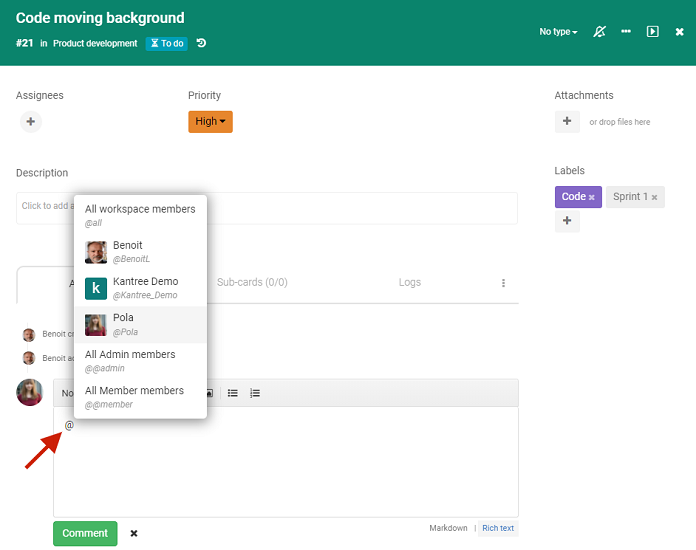 When you need input from your team, tag them @ in the comments section of your card. Thanks to Kantree's email integration, their reply will appear directly in the box.
Kantree project forms
When you need to collect and organize information from outside your team (e.g. customers, collaborators, job applicants), use Kantree forms. Unlike traditional solutions, this one will save you time by eliminating the need for data entry. 
When you share a Kantree form on your website or other online channels, the data received will be automatically added to your workflow, in a place you designate beforehand. Kantree will create a separate, customizable card for each entry. 
[Check out: How to set up and use Kantree project forms]
4. Get an in-depth project overview
We've all heard it many times: knowledge is power. When you have a good understanding of what your customer needs are and what's going on in your project at every stage, you will be able to adapt to any external or internal changes and improve your outcomes. For that you need the right tools: project views and reports.
That's why Kantree has multiple ways to view your workflow and data, providing you with critical project insights to help spot any issues and opportunities. That way you can optimize performance - yours or your team's. 
You can display your work as a kanban board, table (similar to a spreadsheet), timeline, calendar, and interactive checklist. It also has powerful reporting tools, which we call dashboards, to give you further insight into what's happening. 
[See also: Improving cross team collaboration with kanban]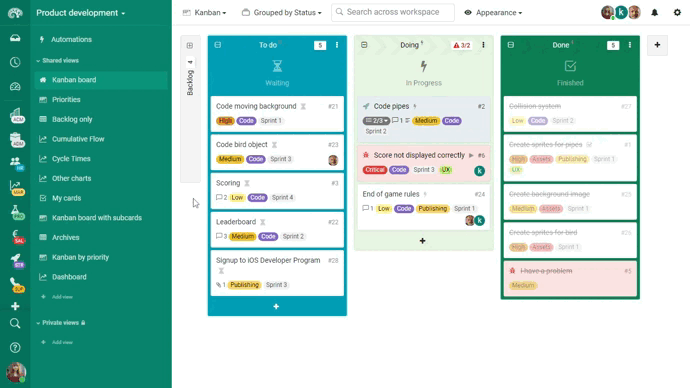 With multiple ways to display work, you can spot issues or opportunities early on and adapt quickly to deliver better outcomes - in line with principles of digital transformation.
Private views
Kantree makes it easy to manage projects your way, without disrupting the workflow for everyone involved. This is done via private views, which is another way to display data. Once you filter cards and get the information you want, you can save it as a private view on the project sidebar and access it each time you log in. 
Digital transformation is not an overnight process, but it starts with the right digital tools and getting your team on board. We are here to make the journey smoother and allow your teams to digitalize their work by themselves, without added stress.
Try our platform free for 15 days to get started. Questions? Email us.
---