How Kantree helps you manage projects remotely
17/12/2019 - Updated on 19/07/2023 - Pola
As digital transformation becomes commonplace, driven by technology and new trends in project management, being able to manage projects remotely is no longer an option, but a necessity. Especially when you also manage distributed teams or have a workforce that is frequently on the go, such as consultants or sales managers.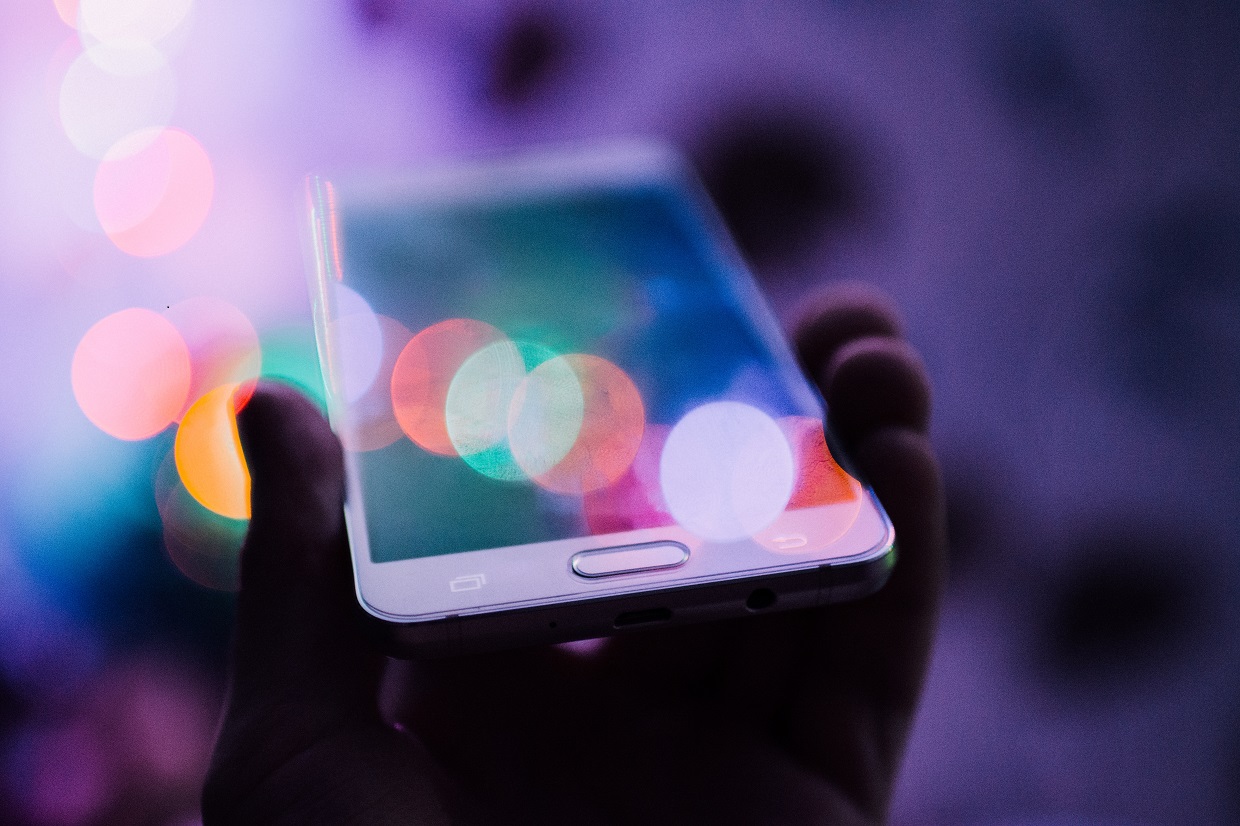 Thanks to Kantree's features, everyone can stay on top of projects even when they're away from the computer, live in a different time zone than the rest of your team, or don't have access to WiFi. Catching up is easy too (we hate seeing hundreds of unread emails when we get back to work).
Let's take a closer look and how you can organize your work and manage projects remotely using Kantree. This is all tried-and-tested within our own team.
With Kantree, all work is accessible at all times
This is a must for distributed teams. Sticky notes on your desk or to-do lists written on the whiteboard in the meeting room no longer cut it. Same with relying on email to send important files or project updates - everything can easily get lost or be hard to locate, especially when you're checking email on your phone (which we all do).
With Kantree, all important data is kept in one place and accessible to all, i.e. those in the office and those away from it, so that everyone is on the same page (of course, you can manage project permissions and roles, but that's a different story).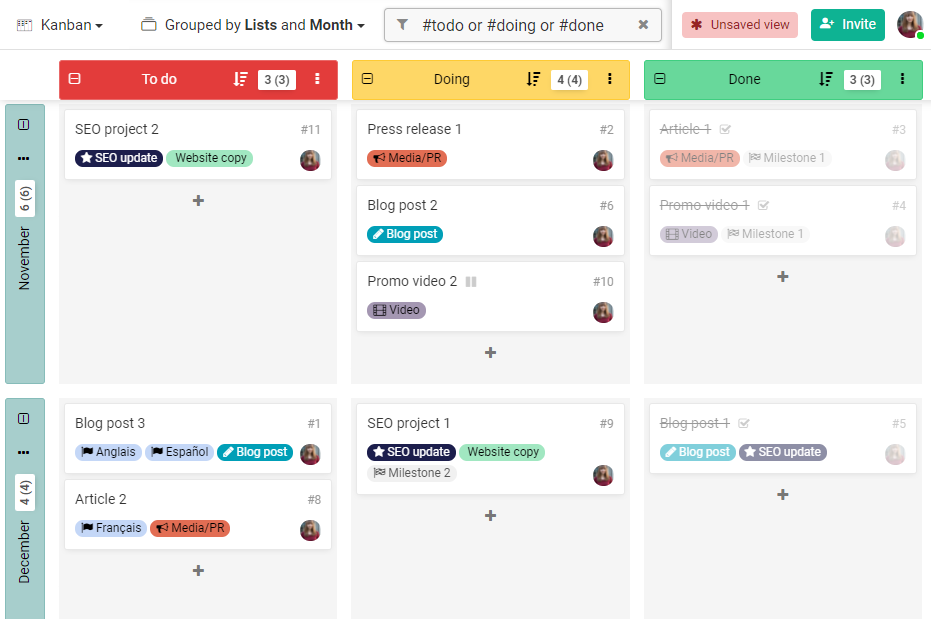 Teams can communicate easily and efficiently
All team communication is centralized in Kantree, thanks to our notification center, Slack and email integration, and task reminders. When a teammate needs your input, they can tag you in the comments and you'll get an alert (in Kantree or via email, your choice). You can also subscribe to cards or groups, so that you're notified about the changes that matter to you. No need to sift through irrelevant messages.
Catching up is a breeze (forget unread emails)
After you've been away, no need to dread a full inbox. You can catch up on what you've missed instantly with our log feature. It gives you an overview of all the logs attached to cards, with the possibility to filter data by the type of log and time period. Save the filtered data as a personalized view for easy access later.
With Kantree v10, you can also check your " Kantree Inbox ". Think of it as your personal work and notification center, where you can follow what's going on across workspaces and join conversations without having to click around.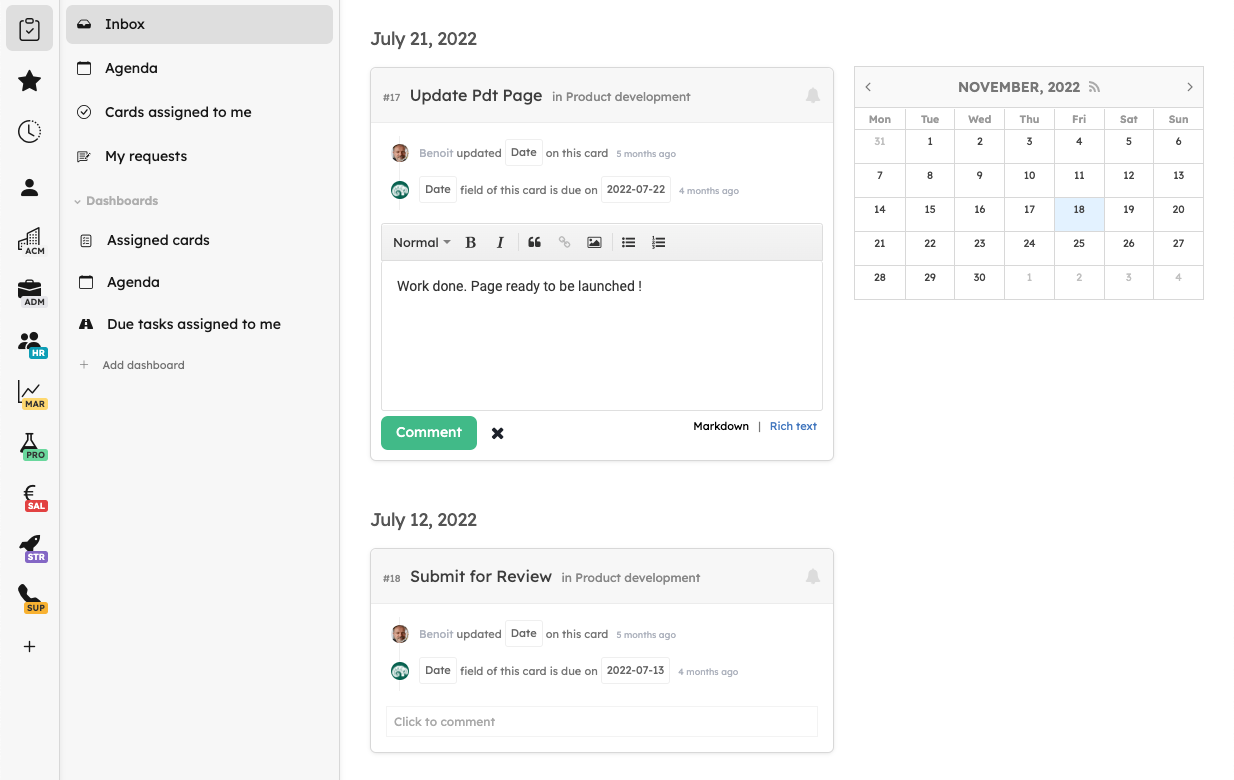 Mobile access: your projects on all devices
No laptop, no problem! These days a lot of us do business on the go, whether you're taking the train or waiting to board a flight. That's why we made sure that Kantree works on all smartphones and tablets, both Android and iOS, and is optimized for mobile browsers. This feature came in handy for our own team, when we attended Web Summit in Lisbon and needed to access our projects while we were in transit. [Download our app from the Apple Store or Google Play]
Offline support, when you need it
Mobile access is nice, but offline support makes it even better.
One of our clients, a multinational nuclear fuel cycle company, has remote team members in a nuclear plant, where WiFi is prohibited for security reasons. These employees use Kantree on their phones to access offline to-do lists. [See all our Client Stories]
It's possible because our platform saves projects locally, so that they stay accessible even when you're not online. You can add new cards or comments in the offline mode and all the changes will be synchronized once you're connected again.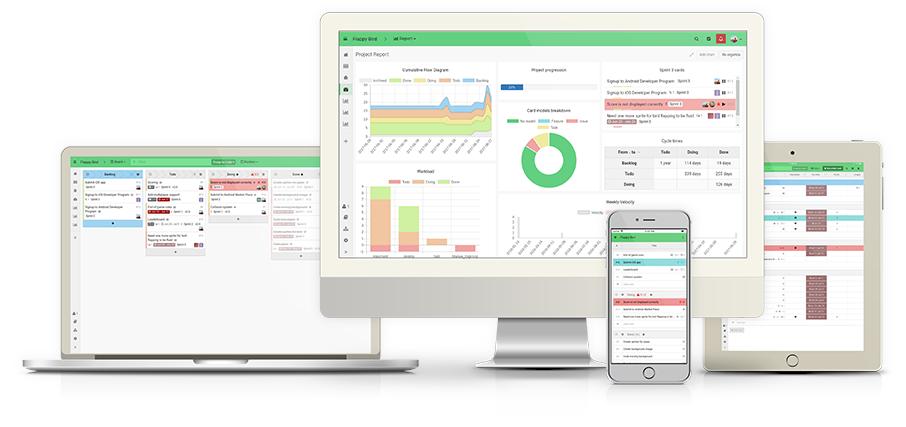 While you're here, check out these resources for remote teams:
Try Kantree free for 15 days and get your teams connected. Questions? Email us.
---